Ebonite Vortex V2
The most sought after ball from Ebonite is back, but for a limited time. Reintroducing the Vortex V2!!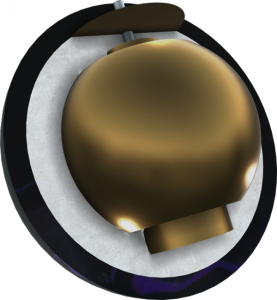 Description
Limited Availability. We have 8 in stock. 2 x 14 lb and 6 x 15 lb. Do not miss out on this Legend. Order yours today!!
Produced in a small production run as a seasonal release, the Vortex V2 is sure to sell out quickly. If you miss out on this 2019 batch, you will have to take your chances on getting one next season. Get yours today!
TRIMAX19 Reactive Coverstock - Long before GSV-1 and GB 10.7, there was our Trimax Reactive Coverstock, used on the original Vortex and Matrix series. Trimax was the most aggressive coverstock for Ebonite during its time. Compared to today's coverstock formulations, Trimax created less friction in the oil. Our new Trimax19 maintains aggression at the backend of the lane, but now features a stronger reaction in the oil due to its updated formulation.
Modified V2 Core - The Modified V2 Core features a lower RG and higher differential combination compared to the Enhanced V2 found in our Game Breaker series. These new core numbers are almost identical to those seen in the original Vortex V2. The modification in density allow this V2 to rev up easier and offer more total hook than ever achieved in any Game Breaker released to date.
RG: 2.46

Diff: .051

Color: Black/Blue

Reaction: Strong Midlane & Backend

Coverstock: TRIMAX19 Reactive

Factory Finish: 500/1000 Abralon

Core: Modified V2

Mass Bias: N/A (Symmetric)




Note: Price Excludes Drilling
Reviews
There are yet no reviews for this product.