Roto Grip Outlaw
The Roto Grip Outlaw bowling ball is the new bad boy in town! The quickest draw on the lanes will leave the pins lyin' dead!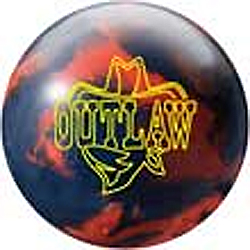 Description
The Roto Grip Outlaw showcases a dependable weight block shape and powerful coverstock. The Caliber weight block shape of the Outlaw maximizes pin action, accomplished through increased energy transfer of about 12% when compared to traditional cores, and works for both rev dominant and speed dominant players. The Inception coverstock has a surface topography that showed Ra values up nearly 10% from previous blends. The Outlaw handles a variety of conditions ranging from a typical house shot to tough tournament action. the Outlaw provides an earlier, more predictable reaction. RG:2.57 Differential:0.048 Flare Potential:4-5" (Med-High) Lane Condition:Medium-Heavy Finish:Matte Coverstock:Reactive Resin Coverstock Name:Inception Solid Reactive Factory Finish:2000 Grit Abralon Core Type:Symmetric Core Name:Caliber Roto Grip Product Line:HP3 Color(s):Red,Orange,Black Note: Price Excludes Drilling.
Reviews
There are yet no reviews for this product.